1. Make a decision on experience versus opportunity
For lots of marketing roles, experience is less important than great processes and smart and motivated people. For example, in SEO, PPC, and Social Ads we know we'll build and maintain the best team, by having smart graduates learning from their experienced colleagues, our years of experience in the field, and following proven processes.
However, for other roles, the time taken to go from graduate to specialist is simply too steep. A good example for us is coding - we know we need people who are already proven coders the day they join us.
The right mix is different for every company and every team. However, if you have the right leadership and processes, there are big advantages in working with really smart young people who will in time become incredible assets when compared to possibly a less gifted person who's got experience but less future upside.
Be warned though: do not take on juniors or interns if you don't have the marketing leadership and processes to help them grow. You'll end up churning through a lot of people and poor quality work will be the norm.
2. Generate lots of applications
In our experience, there is no single platform that delivers the best candidates. Typically, we post ads in two or more places and we heavily promote the role internally and externally. It's a numbers game and finding the best marketer means getting the word out far and wide. Here are some of our favourites:
Seek.com.au
LinkedIn Job Posts
GradConnection (for intern and graduate roles)
Posting ads on our website
Promoting positions on our company social pages
Getting the team to promote it on their social pages
Rewarding the team with a finders fee if they suggest someone who gets the role
Reaching out to our network to see if anyone can recommend someone for a position
For most roles, we'll use most of the above options. Generating a lot of candidates is an essential part of hiring the best marketers.
3. Be careful with recruiters
There are some amazing recruiters in the marketing space who genuinely care about getting the right candidates for a role. In my experience though, they are the exception rather than the rule.
The main KPI for most recruiters is how much revenue they generate for their company. The way they do this is by placing candidates in roles. It's pretty simple, the person you are speaking to is a salesperson, not an impartial member of your HR team.
What this can mean is that some recruiters will take your detailed brief and use it to coach candidates who are not a great fit so that when you meet them, you think they are. They might also oversell your role to candidates who otherwise might not be looking for what you are offering. In most cases, they will work hard to sell the strengths of the candidates they present so they can win the business. Given how they are paid, it's hard to fault them for this.
It's also common to see companies who, when using recruiters, skip parts of their own recruitment processes because they think the recruiter is looking after things. They're not. If you use a recruiter, make sure you still own the entire recruitment process and put their candidates through all the steps you'd normally use for internally sourced candidates.
In our experience, taking the 'shortcut' of using recruiters has often resulted in recruits who last less time in the role and are on average less suited to the role itself. As an agency that relies on getting the best recruits and retaining them for as long as possible, we have made the deliberate decision to in-house our recruitment for all roles.
4. Be clear about the role
This is the biggest mistake I see. Unless you have a large budget and a lot of time, you're going to need to sacrifice either the breadth or the depth of your team. Bottom line, the smaller the team, the less chance you have of having it all.
Are you looking for a generalist marketer? No problem, but understand that they won't be an expert in Google Ads, Facebook, SEO, strategy, and messaging. Successful multi channel digital marketing teams require a collection of various experts, not just one individual with an average understanding of each channel. Of course, an employee might have skills in each channel, but there will be limits to their ability (even if they don't accept there are)
Likewise, if you're looking for someone to get the most from your media budget, understand that a specialist (and a very good one) is critical to making sure the wasted spend is not more than the cost of staffing it correctly in the first place.
Don't expect talented generalists to perform as specialists. Don't expect awesome specialists to be good generalists. And don't be surprised if a talented specialist ends up getting bored working on the same campaign day after day.
I work with a lot of marketers and rarely come across a genuine 'unicorn' who can do it all. Modern marketing is a team sport where a mix of people brings strategic, technical, and creative skills together to generate the best results. Before you start looking, ensure you understand what you need the role to include and be realistic about what is possible.
5. Make it the job they want
The best digital marketers have job choices and they can afford to be fussy. Before you try to fill a job, make sure you're doing everything you can to make it a job a talented person will be excited to get an interview for. As much as they are selling themselves to you, never forget you're also selling the role to them. If they get multiple offers, you better make sure your offer is the one they've been waiting on.
It's not uncommon for digital marketing roles to remain unfilled for many months if the approach to recruiting is lacking in some way.
6. Speed is important, but so are multiple touch points
If you don't make recruitment a priority with your other responsibilities, you will miss out on the best candidates. If you're slow to arrange the first interview, quality marketers will be taking an offer from your competitor. You need to act fast and keep the momentum going. At the same time, pressure should never be a reason to skip key parts of your recruitment process. For us every role needs to go through the following steps regardless of time pressure:
CV review
Email screening (this can be skipped if needed)
Short Zoom call
Behaviour assessment tool (for roles with lots of candidates this might come earlier)
Face to face interview (with a senior member of staff and a subject matter expert)
Practical session (to test their skills for the job they will be doing)
Offer call including expectation setting and final Q&A
7. Understand what you're really getting
Just because someone worked on the Apple campaign during their time at 'one of Australia's leading agencies' does not mean they will be any good on your team.
Large agencies tend to have teams of people that specialise in small parts of the process and are OK with things moving slowly given the constraints of working with large brands.
People who have only worked in-house may have been exposed to very few campaigns and industries. Some or all of the hands-on work on their campaigns may have been outsourced to agencies. Will this be a problem for you?
And people from a fast-moving agency background might find your in-house role lacks the diversity and pressure they thrive in.
SEO, Google Ads, Facebook organic, Facebook Ads, EDMs, design, video and writing skills are all very different from each other. Being experienced in one does not mean much if they are going to be doing something different for you.
Be clear about what you are and what you are not and recruit for the right fit. You and the candidate will both be thankful.
8. Test the candidates
There is a surprisingly small amount you will learn about a candidate through the standard recruitment stages:
Their CV and cover letter
Where they went to school
Calling their references
Asking smart interview questions
In addition to these steps, you need to test people in a way that is relevant to the role. This can include personality tests, cognitive tests, and practical sessions during the interview process.
For a salesperson, get them to try to sell you something. For a marketing specialist, get them to do an audit on your campaign and present the results and what they intend to do about it. For a writer, get them to write. For a designer, review their portfolio and get them to discuss each brief and why they made the decisions they made.
There are very few roles where you won't be able to think of something practical they can do before you offer them a role. As this involves a time investment from the candidate, we typically do this towards the end of the process so we're only testing people we are already feeling good about.
9. Set expectations before you make an offer
This is simple and really important. Before you offer the job, speak to the candidate about what's important to you in the role. Is it that they are able to develop while working for you? Is it how long they stay with you? Is it the importance of deadlines? Whatever it is that is important to you, make sure you get a commitment from the candidate that this is also important to them. You'll be amazed by how much influence this has on their behaviour once they join the team.
10. Onboarding is a part of a successful recruiting process
The day someone starts in a role is just as important as the recruitment process itself. Do they know what success looks like for them? Do they have clear processes, mentors and leaders to work with who will ensure they are travelling in the right direction? Marketing is hard and for someone new to succeed, it's critical they are working within the right structure.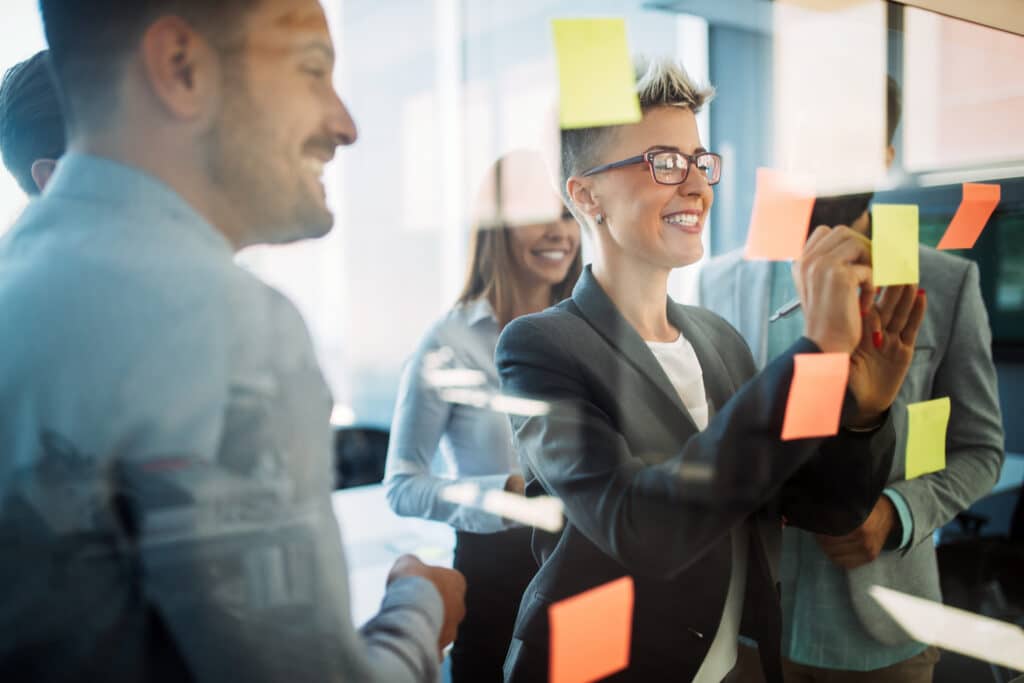 11. Find the gaps in your team
Unless your team is very large and skilled there will be things your marketing team is either not doing or not doing well. Be clear about what these gaps are and understand if they are simply an inconvenience or factors that will hold back your performance in a meaningful way.
Common gaps we see in marketing teams are:
Lack of true marketing strategy
Average quality design
Poorly managed and optimised media budgets
Tracking and analytics issues
Conversion rate optimisation opportunities
Messaging that does not resonate with the target market
Not taking advantage of the latest trends and technologies
An inability to push back to management when needed to keep things on track
Once you understand the gaps, you need to understand your options in terms of filling them. Is it time to hire a new person? Can you train up an existing person to fill the gap? Is it time to partner with a marketing agency to outsource certain functions in your marketing team?
We've got a wealth of experience in recruiting the best digital marketers, as well as in 'filling the gaps' to ensure our client's marketing teams are performing at the highest level. If you'd like to have a chat with a member of the team then get in touch. We'd love to help.