1. I will understand why growing market share is easier in a recession than a boom
This is really important. It's easy to hear feel-good messages about the benefits of marketing in a recession and think they are true. But you need to believe it. You need to understand how it works. You need to get to the point where you're
vigorously arguing with stakeholders that now is the time to invest more in sales and marketing than ever before. That there is untapped potential to grow market share via marketing in your industry starting today.

Here's a graph to get started. See the right hand columns? They represent the companies that increased their marketing investment during recession. They grew. See the other columns? These represent companies that maintained or reduced their marketing spend. Don't be those companies.
And here are the views of some better qualified people and larger businesses on the topic.
"We have a philosophy and a strategy. When times are tough, you build share."
A.G. Lafley, CEO, Procter & Gamble
"Winners pulled away from losers during the last recession and widened the profit and market-cap gap during the subsequent expansion, Bain's analysis of nearly 3,900 companies worldwide shows."
Tom Holland and Jeff Katzin, Partners, Bain & Company, 2019
"The best performing companies did little expansion during economic booms. They declined to pay up for mergers and acquisitions, using the good times to build up their finances."
Bill Conerly, Forbes, 2020
"In Argentina, after the recession of 1999 turned into the crisis of 2001, many people had to abandon their preferred brands of consumer goods in favor of economy brands. The premium brands that successfully weathered the storm did so by offering affordable new formats and cheaper packaging, focusing attention on performance and value, and, when the crisis ended, celebrating with positive and upbeat communication."
Nigel Hollis, Chief Global Analyst, Millward Brown, 2008
"The losing companies tended to follow a few recession dead ends. Some tried to slash and burn their way to the other side, under the misconception that extreme cost-cutting would be enough to survive the storm. They cut R&D across the board, scaled back on sales and marketing activities, laid off valuable talent and ruled out acquisitions. Other lagging companies strayed outside their core business, investing in the latest hot sectors and tools, praying for a winner. Still others tolerated poor results during the downturn, waiting to see what would happen, and then finally took action—too late because they bought the wrong asset or fell behind in product innovation."
Tom Holland and Jeff Katzin, Partners, Bain & Company, 2019
"The benefit of increasing the marketing spend during an economic downturn is very well manifested in the profit level during the recovery period and afterwards. During recovery, businesses that had cut their market spend during the economic downturn averaged a fall in profits of 0.8%, firms which maintained their market spend had a 0.6% increase in profit while those businesses that increased their marketing spend during recession enjoyed an average increase of 4.3% in profit."
George Amissah, PhD and Udih Money, PhD, International Journal of Business and Social Science, 2015
"If a company fails to maintain its share of mind during an economic downturn, current and future sales are jeopardized. Maintaining "share of mind" costs much less than rebuilding it later."
George Amissah, PhD and Udih Money, PhD, International Journal of Business and Social Science, 2015
You should assume that your market is going to continue shrinking in the coming months. It'll be hard to win new customers and generate new opportunities. But if this is true, it will be the case for everyone.
Here's the reality though. When this is over, and things start to recover, regardless of the speed of recovery, most of these customers will again need to buy what you sell. And when they do, a lot of them will research the market and give their business to who they think can best solve their problem at that time. This will very often not be the company they used to do business with.
Win more of this business than your competitors and you'll grow back faster than they do. Your market share will have increased and ultimately so will your revenue.
But it starts today by making sure that your prospects (including ex-customers) are aware of you and your offering. This is where marketing comes in. When it comes time to buy, you need to be in the conversation.
Here's a final thought.
"As companies slash advertising in a downturn, they leave empty space in consumers' minds for aggressive marketers to make strong inroads."
Peter Fader, Wharton School, 2008
Do your business a favour, be the aggressive marketer. If you aren't responsible for setting marketing budgets, share the commentary above with the people who are.
2. I will ensure survival is taken care of right now
Another reason for growth opportunities coming out of a recession is that some of your competitors simply won't make it.
Apologies for the US-centric data, but here is a good recent example of the financial crisis of 2008. The spike in business failures is strong and very clear.
Your number one priority right now (other than looking after the health of yourself and your community), is ensuring your business survives the crisis itself. Don't be a spike in a future graph.
No-one knows what's going to happen in the coming months. But common sense would suggest we're in for a lot more social isolation and further economic pain. Don't assume the worst of things are behind us. And the longer it goes for, the
greater the chance of prolonged economic pain through the recovery.
If you have not already built a model that shows how you're going to survive this, then do so before reading on.
If you need marketing tips on how to survive the COVID-19 crisis, then download our free COVID-19 Marketing Survival Handbook. This handbook contains easy-to-follow steps to help you get through the initial shock of COVID-19.
3. I will build a recession recovery team and give them budget and authority
Without careful planning and execution, it's unrealistic to expect an increase in market share from the most disruptive health and economic shock in modern times. You need goals, and specific people who are capable of, and can be held accountable for, hitting them.
Here's what you need to do:
Build a team consisting of smart and motivated people. Make sure sales, marketing, customer service, product and the executive are all represented. If you're already a small team, this will be much easier.
Have no more people in this team than you absolutely need. Small teams representing different parts of the business will make better decisions. You're looking for volunteers, not conscripts, who believe in this as much as you do.
Give the team real authority and budget. Make sure they report directly to the CEO. Again, if you have a small team this will be easy.
Make sure sales and marketing are on the same page from here on in. No more blame game or pulling in different directions. This is critical. You'll fail if you let sales and marketing blame each other when things get tough. And things will get tougher before they get better.
Make a clear decision on what your marketing goals are for long-term success. This will vary according to your specific business. Your goal can't be 'make more money'. Speak to us if you need help on this as you need to get this right.
Here are some possibilities:
Building brand awareness
Growing the database of prospects
Building a sales funnel (this might be the most valuable asset any business can own right now)
Generating sales / conversions
Or a combination of the above
4. I will update my core messaging
The majority of businesses in Australia are still generating revenue. Amongst all the doom and gloom you need to remember this. For most of us, prospects are still seeing our websites and other digital assets. From this they are forming an opinion on us based on our core messaging.
Here's how our own messaging changed after COVID-19 changed our prospects lives.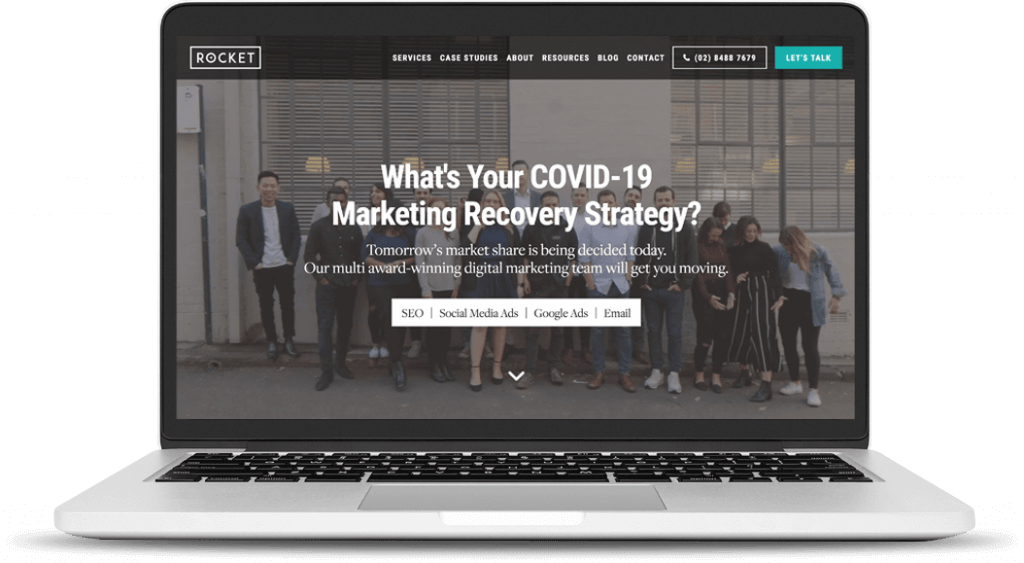 Our messaging reflects the fact that we want to work with businesses who know they need a quality marketing partner to make the most of the current opportunities and challenges. It's important they know we understand their current problems, not the problems they had before this all started.
It will be the same with your customers and prospects. If their problem, and the value you deliver to them, has changed then your messaging needs to reflect this. You want to join a conversation that is already going on in their heads.
Our advice to our clients is that they need to have a message for where their prospects find themselves right now. This message will likely change as the crisis changes. And just as importantly you need to have a message ready to go when the recovery begins. You need to be able to act in real-time as things change.
5. I will cut spending on the dumb stuff
We'll take it as a given that your P&L has already been reviewed and the things you don't need have already been trimmed. A crisis is a great opportunity to get lean and only invest in things that matter.
What we want to focus on here are the changes you should make to how you spend money in marketing.
Subscriptions & software
Marketing technology (martech) has exploded in recent years bringing incredible power and automation to smart marketing teams. But I can almost guarantee you're spending money on martech that doesn't generate justifiable value. Review these expenses with an eye to value. We are not saying kill martech spend, far from it, it is fundamental that you have the appropriate marketing automation and CRM platform(s). We are saying that virtually every business we audit is paying for some systems and software they don't use.
Media budgets
For many businesses, bottom of funnel media budgets (money spent on finding people ready to buy right now) are not currently generating a healthy return of advertising spend (ROAS). Consider reducing these budgets for the time being. But be ready to ramp them up again when demand justifies it.
We're also seeing budgets being wasted as newly trending, but unprofitable keywords appear. Likewise, we're seeing budgets being wasted on products or services that can no longer be sold. Review your keywords regularly and be careful with what you're bidding on.
You should also review your bid modifiers. There's a very good chance they're broken. Working from home has changed everything from commuting to lunch breaks to weekends. Depending on your business you'll need to reassess your standard busy and quiet times. Likewise, you might find your regional search behaviour has changed. Moreover, we're seeing a shift away from mobile browsing, so bid adjustments at the device, location and schedule level should all be reviewed.
Beware of media you cannot measure
Media budgets are being cut ruthlessly across many industries. They are also being cut harder in particular forms of media. We expect to see non-measurable forms of media to be cut more harshly than those where businesses can see the results of their investments. You don't want to spend on advertising that is ineffective. In truth this can be a challenging thing to measure, particularly when it comes to building awareness for a brand. Regardless, you should critically review any media budgets that are not able to be connected to a KPI that will generate revenue at some stage.
Don't jump at data shadows
The huge number of people now working from home has caused some major issues in reporting. We're seeing spikes and troughs just like in the stock market. If possible, don't make big changes from small data sets. If you're in the B2B space you will also be seeing unusual results as users who were once behind corporate firewalls are now appearing separately in your reports. Your IP filters are also now gone, which means that internal traffic is no longer being removed from your analytics reports. It's possible for traffic to be up but conversion rates to have fallen as a result. Review your data carefully before deciding something you're doing is no longer effective.
6. I will increase spending on the smart stuff
Here's an interesting thought:
"Most estimates suggest advertising investment is likely to be reduced by between 30% and 60% over the rest of 2020 and beyond. Marketing Week's latest survey suggests that around 90% of marketing budgets have been delayed or are under review."
Mark Ritson, Marketing Week, 6 Apr 2020
This sums up one of the greatest marketing opportunities any of us are likely to see for many years. As money is deserting different forms of advertising, CPCs and CPMs are falling to levels not seen for many years.
If you have the ability to buy cheap advertising which generates a return on an important KPI then buy it while it's on sale. Let your competitors fear, or budget constraints, be your opportunity.
Digital vs. traditional
There are predictions that digital will gain market-share from traditional media as a result of COVID-19. The world is being force-fed a diet of digital at the moment and it's unlikely people will retreat from this when the recovery happens. In addition to digital capturing an incredible amount of people's attention, it's also much more measurable than traditional forms of media.
Digital is experiencing an explosion in growth and remains more measurable. Consider moving budgets into this area.
Seriously consider Conversion Rate Optimisation (CRO)
Genuine prospects are like gold for most businesses at the moment. Don't be that business that misses out on a lead because their competitor's website was more effective. Now is the time to work out how to do more with your existing traffic by increasing your conversion rate.
Invest in content
Some of the most effective marketing in the coming months will be top of the funnel. That is, it will be designed to increase the awareness prospects have of your brand. The best way to do this is via high-quality content with a focus on growing the number of people you will ultimately be able to sell to. When creating content, focus on solving people's problems.
More specifically, invest in video content
If you were sitting on the fence with video pre-COVID, then you need to take a stand right now. Whatever it is you have to say, you need to urgently work out a way to say it via video. Best of all, know that a lower production value is more acceptable now than ever before. We're even seeing mainstream television shows broadcasting from people's living rooms, so don't hesitate to get in front of your webcam. Your prospects want to consume video - be the company that delivers it to them. Here's what we had to say about video before the world changed.
Social media
Right now we're seeing crazy numbers in social media. A combination of uncertainty, spare time and remote work is resulting in huge spikes of activity. At the same time, we're seeing advertising spend being cut. The result is that costs in some industries are right down. If you have a message which can generate value for you now or in the future, now's the time to review your social strategy and budgets. This opportunity won't last forever.
Run a series of webinars
With the ability to learn in person severely restricted, we're seeing enormous growth in the effectiveness of webinars. Sign-ups and engagements are sky-rocketing. If you've got a valuable message, it's time to consider delivering it via awebinar. You can't go wrong with Zoom. Record your webinar and use the content to generate leads well into the future.
Improve your remarketing campaigns
Even if your prospects aren't buying today, you can still heavily influence their future purchases by overhauling or launching your display and social media remarketing strategies. Increase the timeframe for which these remarketing ads display to your customers and re-assess the ad frequency over time.