1. Growing market share is easier in a recession than a boom
Articles like this and this from the Harvard Business Review, demonstrate that companies who maintain or increase marketing spending during poor economic times emerge stronger than those who reduce it. The trouble is that a lot of people don't know how to do this properly, or their business panics and they cut back anyhow. 
It's easy to hear feel-good messages about the benefits of marketing in tough times and think they are true. But you need to believe it. You need to understand how it works. You need to get to the point where you're vigorously arguing with stakeholders that now is the time to invest more in sales and marketing than ever before. If your industry is about to struggle, then there is untapped potential to grow market share via marketing starting today.
Here's a graph to get started. See the right hand columns? They represent the companies that increased their marketing investment during recession. They grew. See the other columns? These represent companies that maintained or reduced their marketing spend. Don't be one of those companies.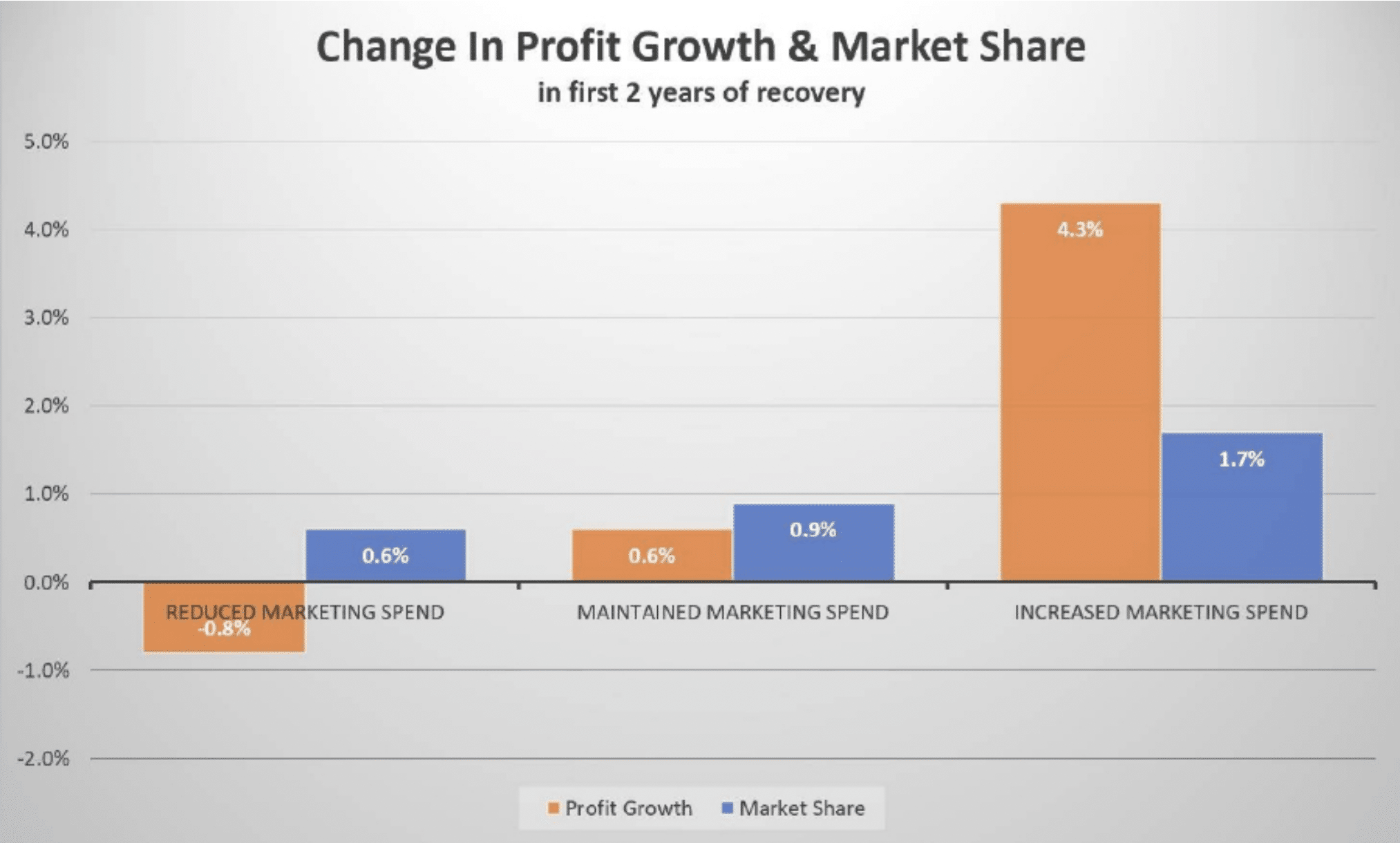 And here are the views of some better qualified people on the topic.
"We have a philosophy and a strategy. When times are tough, you build share."
A.G. Lafley, CEO, Procter & Gamble
"Winners pulled away from losers during the last recession and widened the profit and market-cap gap during the subsequent expansion, Bain's analysis of nearly 3,900 companies worldwide shows."
Tom Holland and Jeff Katzin, Partners, Bain & Company, 2019
"If a company fails to maintain its share of mind during an economic downturn, current and future sales are jeopardized. Maintaining "share of mind" costs much less than rebuilding it later."
George Amissah, PhD and Udih Money, PhD, International Journal of Business and Social Science, 2015
There is a good chance your market is going to shrink in the coming months. It'll be harder to win new customers and generate new opportunities.
Here's the reality though. When this is over, and things start to recover, regardless of the speed of recovery, most of these customers will again want to buy what you sell. And when they do, a lot of them will research the market and give their business to whomever they think can best solve their problem at that time. This will very often not be the company they used to do business with.
Win more of this business, or be known by more of your customers than your competitors, and you'll grow back faster than they do. Your market share will have increased and ultimately so will your revenue.
But it starts today by making sure that your prospects (including ex-customers) are aware of you and your offering. This is where marketing comes in. When it comes time to buy, you need to be in the conversation.
Here's a final thought.
"As companies slash advertising in a downturn, they leave empty space in consumers' minds for aggressive marketers to make strong inroads."
Peter Fader, Wharton School, 2008
Do your business a favour, be the aggressive marketer. If you aren't responsible for setting marketing budgets, share the commentary above with the people who are.
2. Review your marketing strategy
Without careful planning and execution, it's unrealistic for most businesses to expect an increase in market share, especially if they continue to do things as they always have. You need to adapt by creating a B2C or B2B digital marketing plan that is receptive to the changing environment.
Here are some digital marketing strategy tips:
Get together key people representing sales, marketing, customer service, product and your executive.
Figure out what happened during the last downturn and how the business responded.
Use the different perspectives in the team to better understand how your customers and their needs changed.
Make sure sales and marketing are on the same page from here on in. No more blame-game or pulling in different directions. This is critical. You'll fail if you let sales and marketing blame each other when things get tough.
Make a clear decision on what your marketing goals are for long-term success. This will vary according to your specific business. Think long-term here.
Here are some possibilities:
Increasing sales
Building brand awareness
Growing your database of prospects
Improving your sales funnel (this might be the most valuable asset any business can own right now)
Or a combination of the above
3. Understand your 'new' customer
It's likely your perfect customer and key personas will change during tough economic times.
You might be dealing with the same people as before, but chances are they'll have different pressures and a different way of making decisions than they did when times were easier. You need to understand these changes if you are to continue showing value in not only your offering but also your marketing.
You might lose some existing customers as their personal budgets are reduced. The customers you lose may become a windfall for another business who does what you do, only cheaper. If this is the case you might find a whole new audience of people who have fallen out of more expensive offerings and now find you perfect for their current needs. Marketing is likely the best way to find these people and convince them you have something of value to them. 
Once you understand how your key personas have changed, it's time to review your entire marketing engine. Changes need to be made to ensure you're hitting the right people, with the right message at the right time in the right place. 
4. Do better than your competitors
Even in a recession, most industries shrink very little. Often we're talking about single digit % changes. This means there are still a lot of people spending money and making decisions between you and your competitors each and every day.
To succeed, you often just need to do better than your competitors. Their market share is your opportunity. 
One of the most important things you can do is ensure that when a paying customer is doing their research or making a decision, you're putting your best foot forward.
When was the last time you did a full audit of everything you do in marketing?
Full website review

Audit of all advertising campaigns and expenditure

Competitor review

Analytics deep dive to find issues and poor performance

High and low converting page/offer analysis

Customer journey analysis

Creative review

And more
Before you make radical changes to your campaigns, ensure that parts of your marketing you know are working are in peak condition. You'll be surprised by what you'll find if it's a while since you've done this.
5. Cut spending on the dumb stuff
A crisis is a great opportunity to get lean and only invest in things that matter. What we want to focus on here are the changes you should make to how you spend money in marketing.
Subscriptions & software
Marketing technology (martech) has exploded in recent years bringing incredible power and automation to smart marketing teams. But I can almost guarantee you're spending money on martech that doesn't generate justifiable value. Review these expenses with an eye to value. We are not saying kill martech spend, far from it, it is fundamental that you have the appropriate marketing automation and CRM platform(s). We are saying that virtually every business is paying for some systems and software they don't use.
Review performance versus brand building activity
For many businesses, bottom-of-funnel media budgets (money spent on finding people ready to buy right now) won't generate the same return during tough times as they did when things were booming. Consider reducing (but not cutting) poor performing campaigns for the time being. But be ready to ramp them up again when demand justifies it.
Conversely, there are wins to be had by increasing your spending in those activities which grow your brand in the eyes of your prospects. This is largely because your competitors in many cases will have slashed brand building strategies. You'll be able to achieve an increased share of voice with substantially less competition than before. This share of voice can be converted into market share both during an economic crisis and afterwards.
Beware of media wastage
Despite what you might hear, digital marketing is not 100% accountable and data doesn't always tell the full story. But one thing that is always true, is that every media campaign will include its own level of inefficiency and waste.
You don't want to spend on advertising that is clearly ineffective. In truth this can be a challenging thing to measure, particularly when it comes to building awareness for a brand. Regardless, you should critically review all media budgets.
6. Increase spending on the smart stuff
Here's an interesting observation from the last economic crisis marketers faced:
"Most estimates suggest advertising investment is likely to be reduced by between 30% and 60% over the rest of 2020 and beyond. Marketing Week's latest survey suggests that around 90% of marketing budgets have been delayed or are under review."
Mark Ritson, Marketing Week, 6 Apr 2020
As we enter a new period of economic uncertainty some advertisers will take similar actions to those they took last time, and for that matter the time before. As money leaves different forms of advertising, the cost of amplifying your message should become more cost effective. Find those campaigns which are generating a return, or effectively growing your share of voice, and move budget from poor performing areas to them.
If you have the ability to buy cheap advertising which generates a return on an important KPI then buy it while it's on sale. Let your competitors' fear, or budget constraints, be your opportunity.
In addition, you should consider increasing your investment in brand building activities like content creation and amplification, remarketing, display advertising, and video advertising.
7. Learn from your customers and prospects
If you're in an industry where your prospects are likely to be heavily impacted by economic uncertainty, then here's one of the most effective marketing tools you have at your disposal right now:
That's right. A simple question. You need to ask this of your customers and prospects. They will answer you and provide you with incredible insights into your market. For free.
The things you learn will provide you with actionable insights you can apply to your sales funnel, your offers, your product, your customer service and more. Importantly, a lot of your competitors won't be asking this question. As a result, their offering will be less effective in solving your prospects current problems.