YouTube Is Where Your Customers Are
Here are some facts and figures that illustrate what a juggernaut YouTube has become since Susan Wojcicki was appointed CEO in 2014:
YouTube is the world's second-most visited website. (Google is the first)
YouTube has 15 million monthly users in Australia. Almost half of them watch YouTube on their main TV
YouTube was the biggest winner of the pandemic in terms of social media sites with usage growing from 73% of US adults in 2019 to 81% in 2021
In 2020, YouTube's annual revenue was US$19.8 billion (A$25 billion)
Globally, one billion hours of YouTube videos are watched every day
YouTube content is no longer cat videos and dashcam crashes, media and entertainment corporations like Apple, Disney, Fox, MGM, ViacomCBS and WarnerMedia devote significant resources to their corporate YouTube channels. In Australia, we access local news and sports via YouTube as we once did via traditional TV. The recent truce between Australia's media organisations and Google will see greater depth and quality of content on YouTube from the likes of Nine, News Corp and Seven West Media.
Under 40s are now watching more YouTube than traditional TV. (The graph below shows YouTube reach in red and traditional TV reach in grey in the USA in 2019).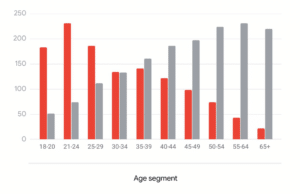 You Can Now Target Just Your Ideal Customers
Five years ago, the big knock on Google was that it was a one trick pony. The classic complaint business owners and marketers had with Google was that it was great at putting an ad in front of a user who had searched for a product or service but it was substandard at providing audience targeting to build an audience of people who were likely to be in the market for their product or service. The argument at the time was that Facebook was where you built audiences and Google was where you showed people Search Ads.
So much has changed...
Google owns six properties that each have more than 1 billion users worldwide:
By working behind the scenes to streamline terms of use of these properties and allowing data share between the platforms, Google has now built incredibly accurate portraits of us as users. What we are in-market to buy, who we are and where we spend our time. Consumer behaviour in one platform can now be used to show users ads related to that behavior in another platform.
Here are the targeting options available for running video ads on YouTube Ads: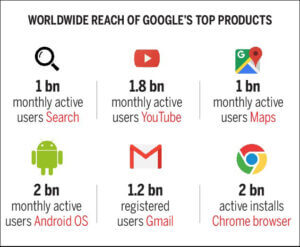 Demographics
As well as allowing audiences to be built via demographic data (age, gender, parental status, household income and location), Google provides 'Detailed Demographics'. The Detailed Demographics tool allows marketers to, for instance, target women in the 30-35 age group who have postgraduate qualifications, are in a relationship but not married, living in rented accommodation and the parent of a toddler.
Life Events + Affinity Audiences
Further, Google knows if someone is about to graduate university, get married, change jobs, buy a house or retire. By better understanding how users behave across their platforms Google now allows us to target users via well over 100 'Affinity categories'. Want to reach 'World Music Fans', 'Convenience Store Shoppers', 'Weightlifters', High-End Computer Aficionados', 'Beachbound Travellers', 'Home Automation Enthusiasts', 'Vegetarians & Vegans' or 'Taxi Service Users'? Google allows us to target these users with precision.
In-Market Audiences
An even more surgical way to find prospective customers is via Google's in-market audiences. With over 700 audiences of users interested in soon purchasing a range of B2B and B2C products this is a great place to test a YouTube campaign. With accurate data on our browsing behaviour, our use of Google search and other signals Google is able to build audiences composed of individuals "researching products and are actively considering buying a service or product like yours". This is an incredibly diverse range, think users in-market for; 'wedding rings', 'BMWs', 'childcare', 'ERP Software', 'web hosting', 'personal loans', 'interior designs' and over 700 more niche areas.
Similar Audiences
If you find that an audience within the Google / YouTube Ads platform is working for your business you can send a signal to Google to people similar to the already performing audience. Via Google's 'Similar audiences' targeting option you allow the Google platform to expand your best audiences.
Remarketing
Failed to close the sale after someone visited your website? Google will let you show your YouTube ads to anybody that has visited your website (or a certain page), visited your mobile app or watched one of your YouTube videos.
Customer Match
Allows you to upload your database, or segments of it, and find these users within the Google ecosystem. Think of targeting lapsed customers, prospective clients you weren't able to convert or other segments of your database that would benefit from seeing your brand video on YouTube.
Custom Intent
Custom Intent is one of the most powerful, yet underutilised, features of the current Google Ads suite. This allows you to build an audience of users that have recently turned to Google Search and performed a query related to your product or service. These users do not need to have engaged with your website, or even seen a search ad. If you were a digital media agency like Rocket you could build an audience of users that had searched for things like SEO, PPC management, digital agency and best social media agency. Then when these individuals visited YouTube they would see your ad. This also extends to users that have visited certain URLs / apps.
How To Approach YouTube Ads Or Video Ads
Prior to the rise of digital, creating ads for TV was incredibly expensive. Big brands in Australia would easily spend $500k to $1.5m+ in creating TV adverts with huge minimum media buys. The fantastic thing about YouTube ads is that we can make use of the targeting above, the cost to create effective YouTube ads has plummeted and we can change tact faster than ever before. 
It's far easier to absorb, remember and be emotionally impacted by still or moving images than text. That's the reason why the likes of Snapchat, Pinterest, Instagram and TikTok took off. It's why images are crucial even on a business-orientated social networking site like LinkedIn. It's why whitepapers with lots of pictures and infographics are more effective than text-heavy ones, making them a valuable tool for your digital marketing B2B strategy. Why many businesses turn to a digital design agency to execute powerful video ads. And it's why Hubspot's 2021 State of Video Marketing report found:
86% of business now use video as a marketing tool (up from 61% in 2016)
93% of marketers who use video say that it's an important part of their marketing strategy (up from 78% in 2015)
87% of video marketers report video provides a positive ROI (up from 33% in 2015)
91% of marketers feel the pandemic has made video more important for brands
68% of consumers say the pandemic has impacted the amount of video content they've watched online, with 96% saying they now view more of it
90% of consumers report wanting to see more videos from brands
Your Business On The Big Screen
In the 'bad old days', it took months and hundreds of thousands of dollars to make a TV ad. It then cost hundreds of thousands, and often millions, of dollars to have it regularly broadcast on a metropolitan TV channel. Then there would be a huge amount of eye-ball wastage where despite best efforts a large percentage of users wouldn't be able or interested in purchasing that product; non-beer drinkers watching beer ads during sport or Ford drivers watching a Holden ad.
Effective YouTube ads have been shot and edited on an iPhone in a matter of hours at next to no cost. Even YouTube ads with high production values created by agencies can be produced for budgets in the $5,000 – $15,000 range. Obviously larger brands would invest far more in their video creative. But the reality is that the costs to produce video content has plummeted and is more affordable than ever.
Even relative to Google's other platforms, YouTube ads represent excellent value. While costs vary, it's commonly the case that while Google will charge businesses $1-$3 every time someone clicks on an ad displayed on Google.com or Google Maps, it will only charge $0.10-$0.30 if someone clicks on an equivalent YouTube ad. As is the case with Google's other platforms, those advertising on YouTube can spend as much or as little as they like to place ads in front of potential customers. And depending on the type of YouTube ad it is, the advertiser may not even have to pay for an ad if a viewer doesn't interact with it or watch it for a set amount of time.
If we then couple this with the reality that Google can pretty much guarantee everyone watching a YouTube ad is in the market for the product being advertised it is easy to see the appeal.
This means that SMEs with modest marketing budgets can now create YouTube ads and narrowcast them to thousands of people in the market for what they are selling.
Why SMEs Can Seize An Early Adopter Advantage With YouTube Ads But Would They Need To Be Careful About…
YouTube ads aren't quite the magic cure to all that ails businesses and digital marketers. Unlike a user turning to Google and searching for a product or service they are interested in buying, primarily users go to YouTube to be entertained.
Even if a YouTube viewer is definitely in the market for your product or service, there's no guarantee they will pay attention to one of the various types of YouTube ads you show them. (Aside from a handful of premium subscribers, watching ads is the price people pay for access to YouTube content, just like watching TV ads is the price people pay for access to free-to-air TV content. It's up to businesses and the agencies they hire to create attention-grabbing ads if they want viewers to pay attention to them.
YouTube ads – like most forms of video marketing – work best for getting people into the top or middle of the marketing funnel. To put it another way, YouTube ads are good at building awareness and not so good at converting. (Getting your potential customers to head to the bottom of the funnel then convert will usually involve search engine marketing or remarketing.)
That means metrics such as cost-per-lead aren't much use with YouTube ads. These ads typically assist with conversions but don't immediately lead to them. It's both possible and advisable to set KPIs around YouTube Ad campaigns and look at cost-per-thousand impressions and channel contribution metrics to see if those KPIs seem to be being met.
However, it will probably always be a lot trickier to determine the effectiveness of a YouTube ad than it is to assess the effectiveness of a Google Ad. (The difficulties involved in measuring the effectiveness of YouTube ads is part of the reason many digital marketers have preferred to stick with more quantifiable digital marketing options.)
All that noted, for all the reasons discussed above, YouTube advertising is the future. The only real question for marketers and the businesses they serve is whether to get with the YouTube program now or later.
Early adopters will be able to steal a march on their competitors and take advantage of advertising rates that are, frankly, a steal. What's more, nimble SMEs, especially those with customer bases that skew young, will have the opportunity to outmarket larger businesses. Especially ones that continue to persevere with legacy media ads and a narrow range of digital marketing strategies.
How Rocket Executed A YouTube Ads Campaign
Digital Marketing Case Study
Pooled Energy is a pool technology and automation business that currently operates only in the Sydney metropolitan region. Its pool-automation technology reduces pool owners' consumption of electricity and chemicals as well as saving customers the time and effort they have to devote to keeping their pool clean.
Being a product category that most pool owners don't know exists, Google search is of limited use (people don't search for things they don't know exist). So a digital awareness campaign was conceived targeting digital users located in Greater Sydney that likely had a pool at their household.
Rocket created one long (i.e. 55 seconds) explainer ad and three short (i.e. six seconds, 15 seconds and 16 seconds) benefit-focused ads then narrowcast them to people in Google's ecosystem likely to be pool owners;. People who (a) lived in the Sydney metropolitan region and (b) had used search terms such as 'pool supplies', 'pool heating', 'pool technology' and 'chlorine' while using Google Search, Google Chrome and Google Maps.
The campaign ran from September-November 2020 (pool owners are most focused on their pool as summer approaches. It introduced around 200,000 pool-owning Sydneysiders to the Pooled Energy concept. After leveraging YouTube ads to do the heavy lifting of building brand awareness, Rocket then used Facebook remarketing ads to drive conversions.
End result?
An initial 171% increase in conversions followed by sustained growth month-to-month. In more concrete terms, that means from September 2020 onwards Pooled Energy generated hundreds of leads every month.
Pooled Energy makes for a great case study because, prior to the YouTube ad campaign, most pool owners weren't aware the product solution existed - a product that saves suburban parents a lot of time and ensures their kids won't end up with bloodshot eyes from splashing around in an over-chlorinated pool.
Not so long ago, Pooled Energy would have had little choice other than to hope radio or print ads would prompt some enquiries. The beauty of YouTube is that it allows SMEs like Pooled Energy to affordably target hundreds of thousands of individuals who want what they are selling.
Want to learn more about how Rocket's experts can help you create cost-effective and surgically targeted YouTube ads. Call 1800 959 130 or leave a message here to set up a no-strings-attached chat.