Here are 5 Tried-and-Tested Email Strategies to Increase Engagement with Your Database
1. Be Outcome-Focussed
Every email should have a purpose - for both you and the email recipient.
First, let's view this from a recipient's perspective. Approaching email marketing with a view along the lines of 'I need to send my database one email a week', is not healthy. If you don't have something valuable to say or something valuable to share, then simply don't send the email. One way to tackle this challenge is by stepping into your buyer personas' shoes and asking, "Is this email interesting, informative or inspiring me to do something/change the way I do something?". If the answer is no, then re-consider sending the email.
If you don't have/use buyer personas, here is a free template to get you started.
Second, let's view the outcome from the senders' (your) view. The metric that you review to determine the success of an email will depend on the outcome of your email. Below are some examples: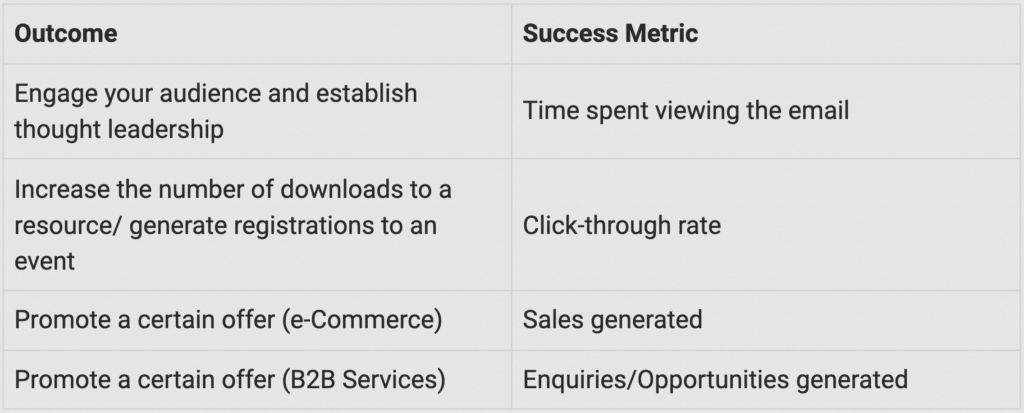 Note: Email deliverability and open rates are important and applicable to all email types, no matter what the outcome.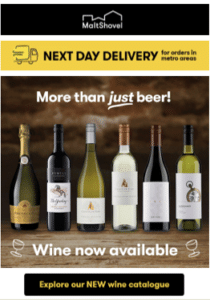 Example 1:
Here is an email by Malt Shovel, informing their database about their new wine range.
Outcome for the recipient: New information, they can order wine from Malt Shovel moving on.
Outcome for the sender: Click-through rate to determine how many people from their database are interested in wine.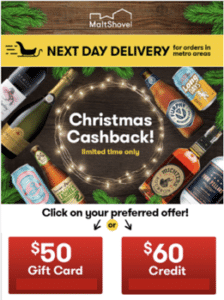 Example 2:
Here is another email by Malt Shovel, based on a similar template to Example 1. Here they are promoting a sales offer.
Outcome for the recipient: New information, they can earn a $50 gift card or $60 credit with their purchase.
Outcome for the sender: Sales/revenue generated from the campaign. 
2. Use Better Segmentation
Most marketers are great at using segmentation for paid campaigns -- narrowing their ads to a particular geography, job title, interest-base, age group or more. The same logic can be translated into email marketing after the audience enters your database.
Here are some tips on how to better segment your audience. Know that just because you have ticked off having an outcome for your email, doesn't mean you should send it to everyone in your database. Segmenting your audience will increase your chance of success with an email.
a. Lifecycle Stage / Lead Status
This property defines where the contact is in your sales funnel. HubSpot comes with pre-set Lifecycle stages that you can allocate to your contacts. These are - Subscriber, Lead, Marketing Qualified Lead, Sales Qualified Lead, Opportunity, Customer, Evangelist and Other. Depending on how you define these stages, you should only send emails to relevant contacts.
Generally, we recommend sending emails to 'Marketing Qualified Leads' that we define as 'Contacts that have interacted with the brand/resource but are not ready to engage in a sales conversation yet.'
b. Contact Type
The reality is that our CRM/email platform includes not just our prospects but also people from our team, our suppliers, customers, channel partners, our past clients and the like. This property can be used to further segment your database.
Essentially, you don't want to send a sales offer to your past clients because this may be irrelevant to them; but you still might want to send them a new resource or invite them to a webinar.
c. Behavioural Data
One of the strongest and perhaps the most overlooked way of segmenting your data is behavioural data. This not only includes instances where you send an email to those that 'have not opened your 1st email' but also instances where the script of your email may differ based on their past interaction with your business.
Consider this: You have 1000 people in your database (all of whom are Marketing Qualified Leads, for the sake of simplicity). Suppose 300 of these contacts have downloaded your ebook on 'Topic X'. Now if you were to run a webinar on 'Topic X', it would be much more powerful to send the list of 300 contacts a separate email from the other 700 contacts.
The email specifically for that segment could be on the lines of…
"Hi #firstname,
I know you downloaded our ebook on 'Topic X' so it just made sense to invite you on a webinar on the same topic, where Expert A will be live and available to answer your questions."
This approach will almost always give you a better result than a blanket HTML broadcast to all 1000 contacts.
d. Service Type
If you offer multiple services that are not necessarily connected to each other, then we'd highly recommend segmenting the audience based on the service that's most relevant to them.
For example, if you're an accountant that manages tax returns for both individuals and caters to businesses, it's best to maintain two separate segmented lists of these contacts.
e. Demographic Data
Marketers know this one too well. This segmentation is based on properties like Job Role, Post Code, Company Size, Budget, Persona and any other custom property that is relevant to your business.
3. Be Relevant!
Email marketing has existed for more than a generation. The first broadcast email was sent in 1978 and resulted in $13 million in sales (Source). The point is, almost always, people know when you're sending them a "broadcast blast" or "automated email", even if it's in plain-text.
As it is with all marketing, make sure the content you're sending and the copy you're writing is relevant to the audience.
Here's an example: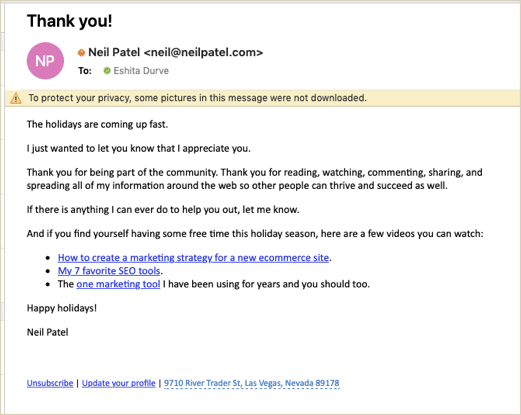 Neil Patel is a leading SEO thought leader.

This is an email that I received in December '19. It's clear that it's a broadcast email, I don't know Neil personally. It speaks of the holiday season that's absolutely relevant for that time of the year. It provides 3 clear click options (at least one of them is relevant to me and at least one of them should be relevant to his entire recipient list). 
Here's another example: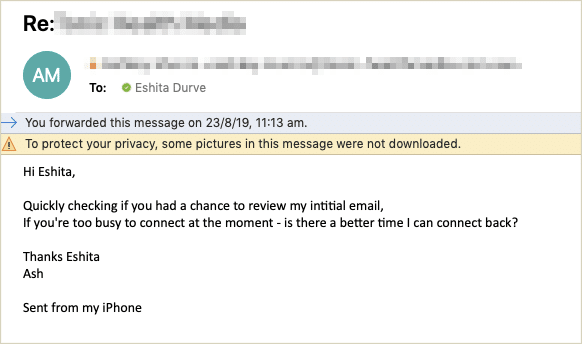 This email was from a media company that I have never heard of. It's cheeky, because it talks about an "initial email" that I've never received. It also includes "Sent from my iPhone" to create some on-the-go urgency. But it doesn't give me any context about the conversation and is 100% irrelevant to me.
4. Blend HTML "Brand" and Plain-Text "Personal" emails
Consider using both types of emails in your email marketing strategy. Your image-rich, branded, nice-looking emails do have a place. They are best suited for auto-responders and the emails for which you don't expect a response from your audience.
While most people know that plain-text emails get better open rates/results, a 'brand-based' HTML email is better suited to your contacts that 'download your whitepaper' at 2 am. Sending a prompt plain-text thank you email at that odd hour can be considered close to creepy. More importantly, if you use plain-text emails for every communication, they tend to lose their 'personalisation' effect.
We recommend you use plain-text emails to 'follow-up' from your HTML emails and take a blended approach to maximise success.
Pro-tip: When you use plain-text emails, make sure your email signature is properly formatted to match that of your 'normal' emails. Additionally, check that the font, font size, formatting and tone of your email matches the sender.
5. Appoint an Email Marketing "Owner"
Ensure that one person from your team 'owns' email marketing in your business. The more automation, segmentation and personalisation you implement, the more aware you need to be before sending emails so as to not "clash" with your pre-existing communication.
For example, if Person A is on an email nurturing journey of 5 emails over 3 weeks, you might want to exclude Person A from receiving any other email during those 3 weeks.
An email marketing owner can also make sure that the contacts that reply to the email are taken care of and serviced appropriately. It would be a shame to send emails, receive replies from your contacts and lose them because there's no response strategy in place.
This person can help refine the audience better by managing unsubscribes, looking through auto-responder emails and removing irrelevant contacts, deleting hard-bounced emails and thus include the most relevant contacts in your database.
Wrapping Up

So there they are - 5 tried-and-tested strategies that you can implement to improve your email marketing.
Start with an outcome focus, select a segmented audience, create copy that is relevant to that particular audience, choose an email format that best serves their user experience and dedicate an email marketing owner to service the contacts that show interest.
If you are considering implementing email marketing in house, assessing email marketing agencies or would like a free audit of your strategy and emails,

contact us

or call us on 1300 059 620.