1. Try to Follow Facebook's New Text & Aspect Ratios on Mobile News Feed

Ever heard the saying "Less is more"? Well, Facebook have certainly made that the case!
From August this year, page posts and ads on mobile will match the look and feel of the new Facebook design that was introduced earlier this year.
These updates mean that there will be only 3 lines of primary text shown on Facebook News Feed on mobile, after which people will be prompted to click "see more" (watch out for this one).
It also means that the tallest supported aspect ratio for images without links and for videos is now vertical (4:5). Media taller than 4:5 will be masked on Facebook News Feed on mobile.
2. Target the Right Audience For YOUR Business – Stop Wasting Money!

All too often we see people create broad ad campaigns with the expectation they will magically reach their target audience. Putting it simply, Facebook isn't this enchanted place with Facebook fairies that miraculously know exactly who you want to target without being told (sorry to burst that bubble!). All your customers have different requirements and will be at various stages of the buyer's journey, so you should be crafting ads for the specific audiences you are trying to reach.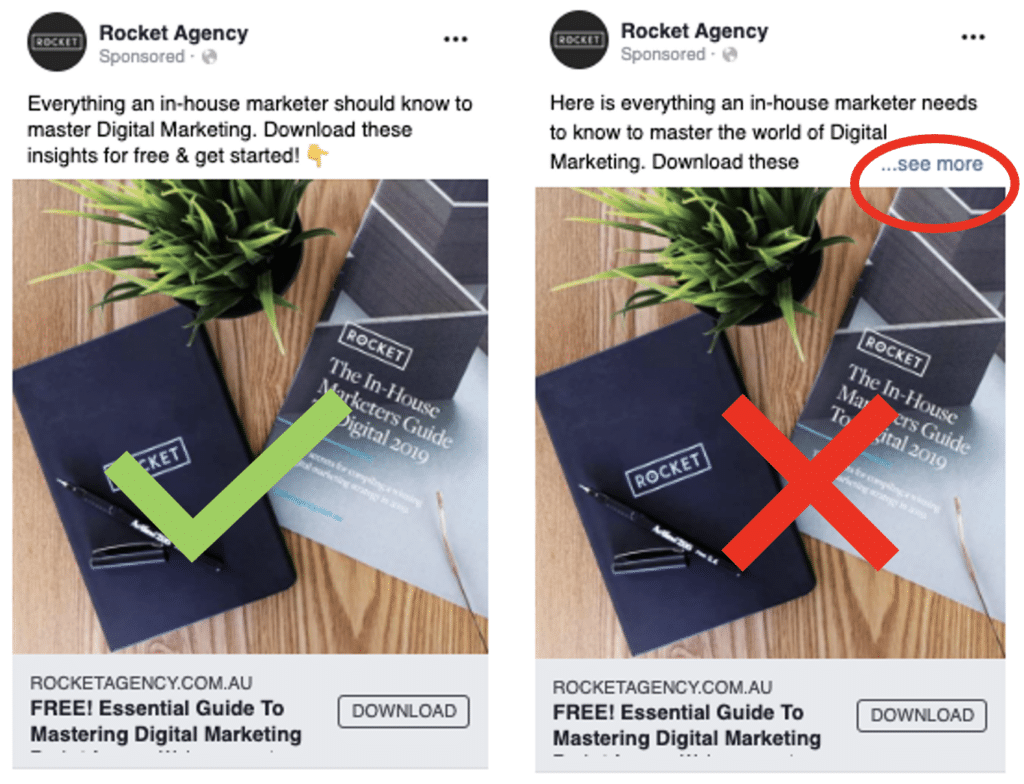 Make sure your ads are tailored to each stage of the buyer's journey, so that they're unique to your customer and speak to them.
The key point to take away from this is when you're creating your ad campaigns, sit down and think about what you are trying to say and to who. Are you targeting existing customers? Website visitors? Or people with particular interests? Regardless of who the audience is, you'll get an improved ROI if your ads are more specific and tailored to their needs.
3. Take Advantage of the Different Ad Types Available

Yes, while a normal Facebook image ad can be effective, you could be missing out on a number of dynamic Facebook ads that could significantly improve your ROI.
Depending on your business and what you want to accomplish through Facebook marketing, choosing the perfect ad type can definitely increase your click-throughs and push more sales.
Some of the most successful ad types include:
Dynamic ads: With dynamic ads you can upload your product catalogue and Facebook will continuously find the right people to promote your products to, including automatically promoting products to users who have already expressed interest on your website or in your app.
Collection ads: If you have four or more different products you want to sell, the collection ad is the perfect way for users to browse your catalogue without ever leaving the Facebook app.
Carousel ads: Just like Collection ads, Carousel ads allow you to showcase up to ten images or videos in a single ad, each with its own link. These interactive ads have more space for you to tell a story, explain a process, show different product angles, etc.
4. Test Out Dedicated Landing Pages

Instead of users being directed to your website's homepage or Facebook business page, they should be sent to a dedicated landing page when they click on your ad.
Why, you may ask? Well, the answer is simple. As consumers, we get distracted far too easily! When a prospect is sent to your website's homepage, there are too many options available so there's a high risk that they'll get too overwhelmed and leave. Obviously, we don't want that.
But with a specific and tailored landing page for users to land on when they click your ad, it will be easier for them to take the desired actions you want.
You can easily create beautifully designed landing pages that remove all distractions for the user and only promote what you want the customer to see. Those Facebook users will now become your repeat customers.
5. Retargeting Works!

Did you know that on average, 92% of first-time website visitors don't intend to make a purchase on your site? That's a staggering number of users who leave without making a purchase!
This is when retargeting comes in. By taking advantage of Facebook's retargeting, there's a 70% chance that your prospects will purchase your product over your competitor's. So, this means you're essentially finding those 92% of users who didn't take action and getting them back.
Facebook retargeting is a "cookie" that you add to your website that allows you to track and bring back website visitors who haven't converted on their first visit. By recapturing your abandoned visitors with retargeting, you can get a massive boost in your ROI.
6. Are Your Images and Headlines 100% Effective?

Gone are the days when using lifeless photos with generic headlines is acceptable. With over 2.4 BILLION active users you need to capture attention with something relevant, interesting and entertaining! We are visual beings, so using high-quality images with bright colours will easily capture the user's attention and is a fool-proof way to get more out of your Facebook marketing!
Yes, your creative is very important, but definitely don't forget about your headline. This can be the make or break for the user, so ensure your copy is clear and gets straight to the point. Highlight any discounts, sales, FREE STUFF, or how easy/beneficial your service is.
Finally, don't be afraid to use emojis! Studies have proven that the use of emojis has resulted in 33% more shares, 33% more comments, and 57% more likes. And remember, higher Facebook post engagement can lead to more sales for your business.
Tips Only Work If You Put Them Into Action!

With our simple Facebook marketing tips to increase your ROI, you'll no longer have to fret that you're flushing your money down the drain with marketing campaigns that don't connect with your target audience. Instead, you'll be crafting enviable campaigns that will get prospects excited about your brand/products and eager to become your next customer!
Our most important tip we've saved to the end. In order for anything you've learnt here to be effective, you have to put it into action. Why not scan the points above and pick one item you can action this week?
If you don't think your Facebook campaigns are generating the return they should and you're not confident on how to fix them, why not

get in touch

? We'd love to have a chat with you about your challenge so we can let you know if we can help.